Polycrystalline photovoltaic module Q270/ Q270HP
Invent photovoltaic modules Q270 – Q270 HP are all made in Italy according to certified quality systems and with a high-output automated production line.
All Invent modules are equipped with Invent's patented InvisibleCell® technology, which makes the module's electrical connections invisible, making the panels aesthetically pleasing with an elegant and modern design.
At the end of their lifespan, these modules will not give you any problems because Invent is a member of PV Cycle.
25 mm ice ball at 23.0 m/s-1 on 11 impact locations. Additional simulation of an impact whose energy is equal to an ice ball measuring 30 mm in diameter.
The module is subjected to 5400 Pa. We also carry out an additional test during which the module is subjected to 7500 Pa to ensure perfect resistance.
5-hour exposure to 1,000 Wm
CEI EN 61215 (2017)
Thermal cycling test (50 and 200 cycles)
50 and 200 cycles from -40 °C to +85 °C with STC peak power current during the 200 cycles
CEI EN 61215 (2017)
Mechanical load test
The module was operated at a temperature of 85 °C with a relative humidity of 85%
The module was operated at a temperature of -45 °C with a relative humidity of 85%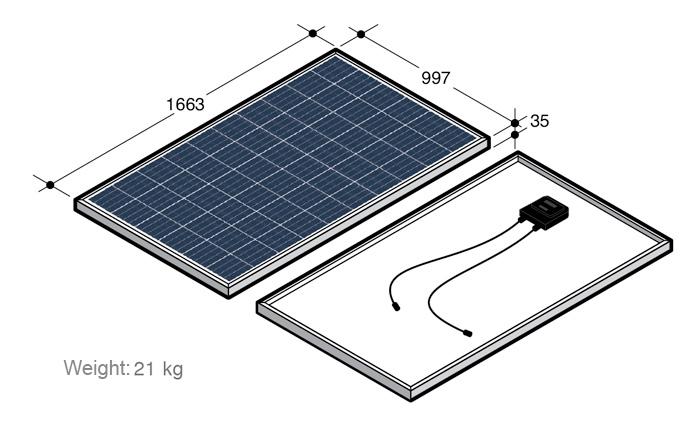 | | | |
| --- | --- | --- |
| Module's Name | | Q270/Q270HP |
| Power class | Wp | 270 |
| Yearly module production* | kWh | 324 |
| Efficiency | % | 16,28 |
Nominal tension

Vmp

31

Nominal power

A

8,71

No load voltage

Voc

38,4

Short-circuit current

A(Isc)

9,37

Full load voltage

V

1.000

Short-circuit current's

temperature coefficient

Pm

4,60 mA/°C

No load voltage's temperature

coefficient

Vo

-0,132 V/°C

Power's temperature

coefficient

Voc

-1,021 W/°C

Power tolerance

Q270

0/+3%

Q270HP

0/+6%

NMOT

45,10°C
Values obtained under standard conditions: 1.000 W/m2 - 25°C - AM 1,5
* Calculated based on the production of the photovoltaic modules in the North of Italy with optimal orientation/inclination estimating a value equal to 1.200 kWh/kWp
Download the technical data sheet Q270
Download the technical data sheet Q270 HP